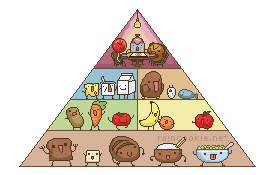 March is National Nutrition Month 2010!
Here's how you can become involved in spreading the word on good nutrition and the healing power of food:
National Nutrition Month® is a nutrition education and information campaign sponsored annually by the American Dietetic Association. The campaign is designed to focus attention on the importance of making informed food choices and developing sound eating and physical activity habits. Initiated in March 1973 as a week-long event, "National Nutrition Week" became a month-long observance in 1980 in response to growing public interest in nutrition. For more information, visit
www.eatright.org/nnm
.
They even have Interactive Tools: Quizzes and Games for National Nutrition Month®
•Name the Foods
◦Quiz
◦Answers
•2009 Interactive Quiz
•Nutrition Sudoku for Kids, Kids Word Search, Nutrition Sudoku for Adults
•2008 Interactive Quiz (Requires Adobe® Flash Player)
•Fad Diet Timeline (Requires Adobe® Flash Player)