The article that grabbed our attention most this week came out of the March 2010 issue of Men's Journal,
Winning Without Wheat
. The piece discusses a bold move by pro cyclist team of Garmin-Transitions which rides in the Tour de France. It even gives an example of how the chef designed their high energy gluten free daily meals (I hope they had GF oats for the breakfast option). The Garmin team has changed their regular high carb training diet to a gluten free one and the results are stunning.
It is an inspiration to see athletes taking notice and utilizing the healthier option of a gluten free diet we live by every day. The team's leader Christian Vande Velde and other teammates expressed they each had better all around digestion and energy levels which lends more validity to the many people who try gluten free and laud the same positive effects.
Gluten continues to be linked to more and more health issues, auto-immune disorders and simply having digestive discomfort. It is no wonder that athletes are starting to take notice and try to glean some of the healthier benefits of trying a gluten free diet, even if it is only when in training.
Just think, one day we can look back and see that we were the trailblazers to a healthier diet without the wheat our civilization had become dependant upon.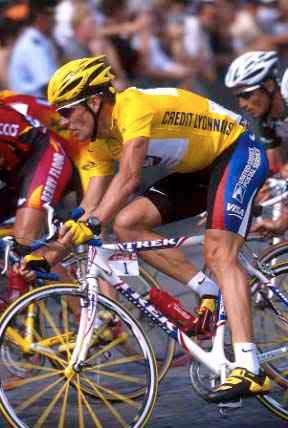 The Tour de France is an annual bicycle race that covers approximately 3,500 kilometres (2,200 mi) throughout France and bordering countries. The race lasts three weeks and attracts cyclists from around the world. The race is broken into day-long segments, called stages. Individual times to finish each stage are totalled to determine the overall winner at the end of the race. The rider with the lowest aggregate time at the end of each day wears a yellow jersey.The course changes every year but it has always finished in Paris.